2020 may have been a gloomy year thanks to the pandemic – but it was also an extraordinary year for vinyl.
In the United States, the format outsold CD albums on a monetary basis in 2020, according to new data from industry body the RIAA. It was the first time that vinyl trumped CD's annual revenues in the US for 34 years.
Vinyl LPs and EPs generated $619.6 million in retail spending in the year, according to the RIAA's new year-end report.
That was $136 million more than the total amount spend by US music fans on CD albums ($483.3 million) in the same 12 months.
---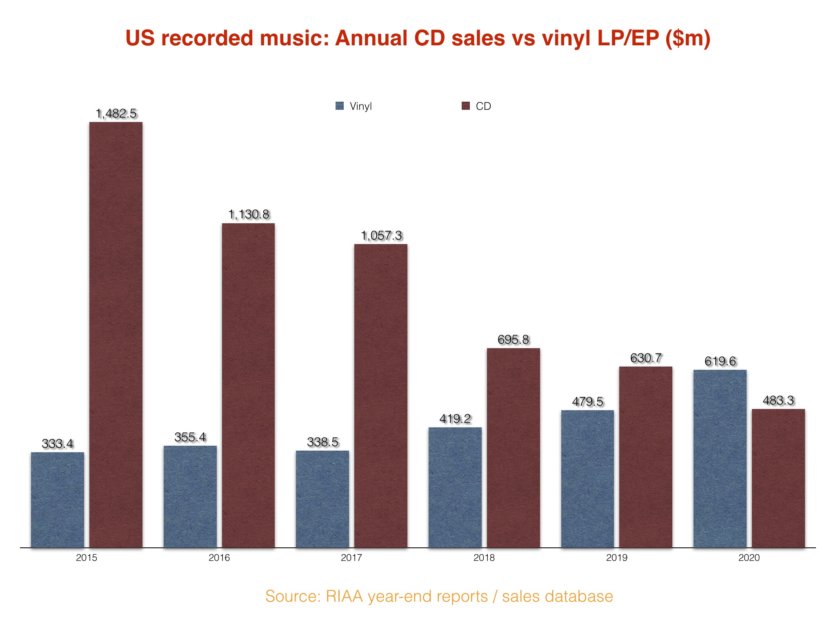 ---
Obviously, the pandemic-enforced closure/limitation of physical retail stores would have likely had an impact on CD sales in the United States in 2020.
That said, when MBW covered the RIAA's year-end numbers for 2019 at the top of last year, we wrote: "Brace yourselves for an historic year for physical music in 2020…if vinyl's retail haul grows by the same margin [in 2020 as it did in 2019] and CD falls by the same margin, vinyl will be a more lucrative format than CD in the United States in 2020."
And that, in essence, is precisely what happened.
---